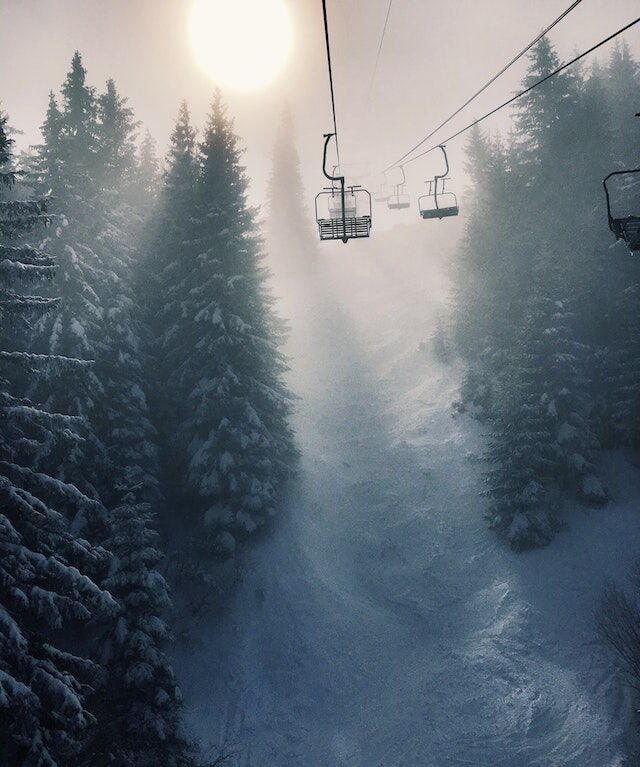 "There's an authenticity about Jackson Hole that is truly unique. You can ski some of the world's best, and most scenic, terrain by day, and line dance with cowboys at night! "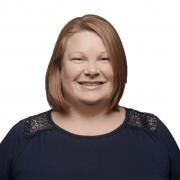 Jackson Hole Ski Holidays
Nestled amongst Wyoming's dramatic Teton Mountain range sits a ski resort like no other. With its irresistible blend of authentic cowboy culture, spectacular big mountain terrain and wild Western spirit, Jackson Hole has grown from little-known cult hero into one of the USA's top ski destinations.
Explore the slopes
Prepare to be spoilt for choice – Jackson Hole boasts an epic 2,500 acres of awesome ski terrain spread across two mountains: Rendezvous and Après Vous. That's 133 runs over an impressive 4,139 foot vertical drop, not to mention another 3,000 acres of beautiful backcountry powder terrain. Jackson Hole is best suited to intermediate and expert skiers and riders, with the vast majority of runs requiring some experience. Rendezvous Mountain is where you'll find the most exhilarating terrain. Expect steep chutes, snowy glades, thrilling fall-line trails and plenty of opportunity to test your skills – and your nerve.
With an incredible 75 black or double black diamond runs to choose from, Jackson Hole is a legendary playground for expert skiers and riders. Après Vous has more accessible slopes, with some gorgeous wide open groomers and pretty, tree-lined runs just made for cruising. Intermediates can happily build up their confidence while soaking up the stunning scenery.
Enjoy the resort
Resort life in Jackson Hole takes place in two separate bases. Located at the foot of the ski area, Teton Village is a charming purpose-built mountain resort with some superb luxury hotels. Travel just 12 miles down the road and you'll hit the lively cowboy town of Jackson, home to bags of authentic Western heritage and some pretty raucous après-ski.
With a wealth of activities to enjoy, Jackson Hole is never dull. Explore the pristine backcountry terrain with an unforgettable heli or cat-skiing experience, a relaxed snowshoe hike or a luxurious sleigh ride. You'll find a good choice of restaurants, shops and bars in both bases, but Jackson town is undoubtedly the livelier resort. Expect huge fun after the sun goes down, as locals and visitors meet and mingle for drinks, dancing and live music in the town's good-time bars and saloons.
Where to stay
We feature a range of accommodation in both Jackson Hole bases. Modern Teton Village offers the best access to the slopes, while nearby Jackson is where you'll find that lively cowboy atmosphere and nightlife. If it's a full-service luxury experience you want, you'll find several world-class slopeside hotels in Teton Village. Enjoy five-star service, exquisite rooms and suites, indulgent amenities from alpine spas to ski valets, and unrivalled access to the mountain.
Our properties in Jackson town tend to be smaller boutique hotels and inns, offering outstanding value for money and that authentic 'Western' experience. Ideal if you love the après just as much as the skiing.
Getting to Jackson Hole
Ski Independence offer a choice of airlines flying from London into Jackson Hole and we provide complete flexibility to choose the day of departure, holiday duration, choice of airline and cabin type. We have the freedom to build you the perfect holiday itinerary around the best flight options that suit you, and not around a product we're committed to sell.
All of our holidays to Jackson Hole include a shared shuttle transfer from Jackson Hole airport, but the area is perhaps best explored with the flexibility of a self-drive car, SUV or minivan. We offer 'Gold' option car rental which includes all the mandatory taxes & fees, extra drive fees, fuel and ski rack. We can also offer vehicles with SatNav.
Image: Courtesy of Jackson Hole Mountain Resort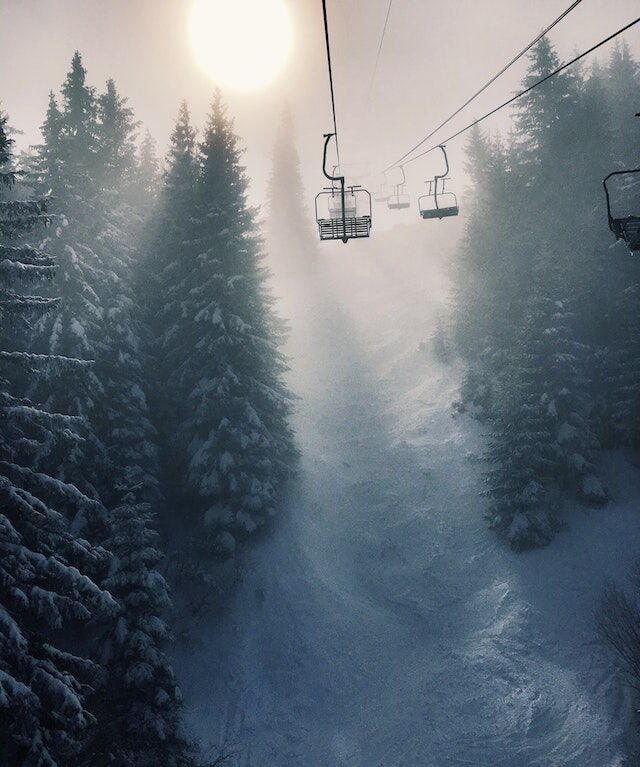 "There's an authenticity about Jackson Hole that is truly unique. You can ski some of the world's best, and most scenic, terrain by day, and line dance with cowboys at night! "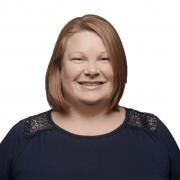 Offers in Jackson Hole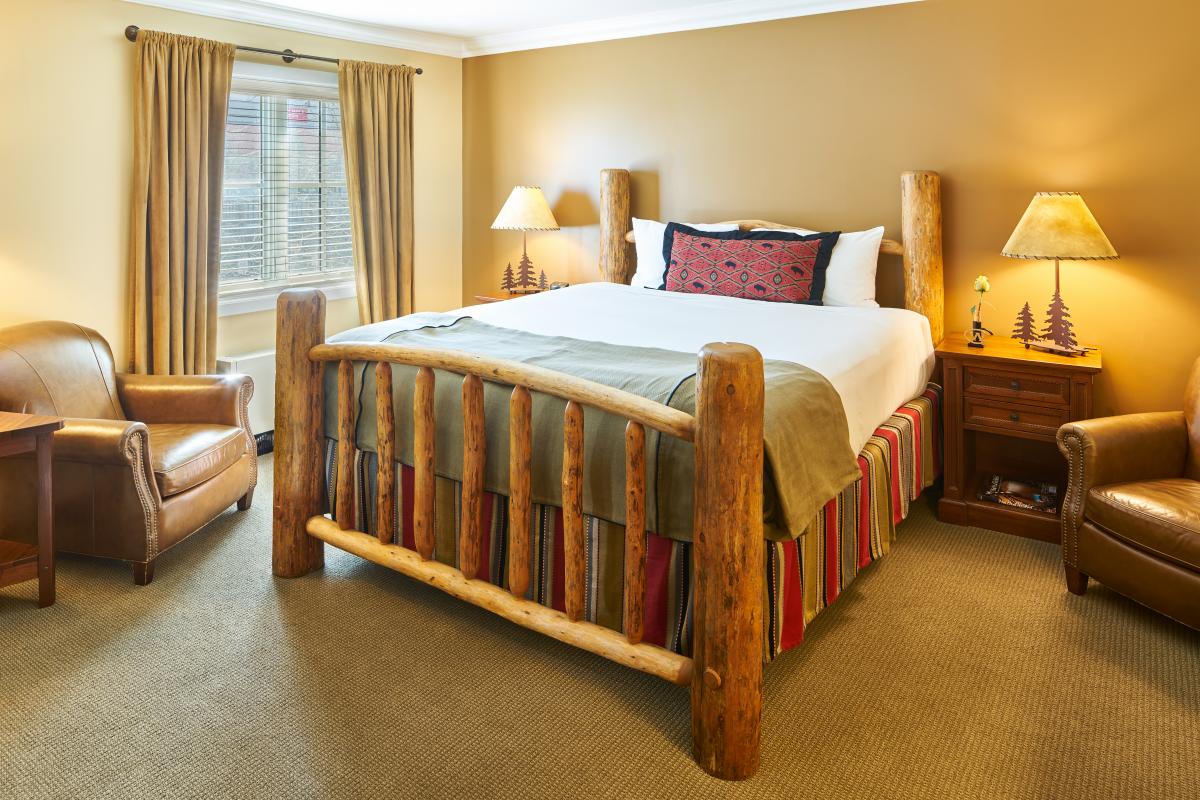 Receive up to 2 Nights Free when you book on your stay at The Wort Hotel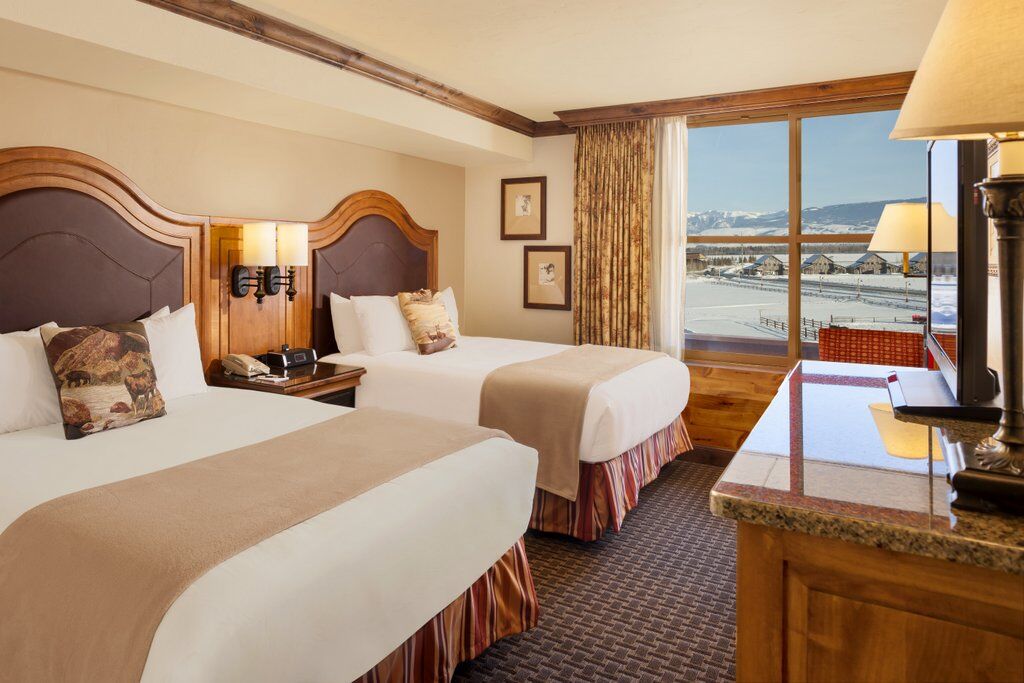 Book your Winter 2023/24 getaway to the Snake River Lodge & Spa and save up to 10% on your stay
Après-Ski in Jackson Hole
Après ski in Jackson Hole is special, but it's definitely a game of two halves – Teton or Town?. After a stellar day on the mountain head for the madness of the legendary Mangy Moose at the base of the mountain at Teton Village, or jump on the shuttle to the town of Jackson Hole for something a bit different.
Mangy Moose (Teton Village)
For over 50 years the Mangy Moose has been the place to après in Jackson Hole – known for live music, great food and awesome beer, this is the best place to get loose after a day skiing on Rendezvous Mountain. It has a spirit and a vibe that is truly rock'n'roll. Stacked with genuine American heritage and ski resort memorabilia, this is proper après. Period.
The Handle Bar (Teton Village)
More sophisticated and upscale than the Moose, the Handle Bar is the Four Seasons Resort's slopeside American pub and beer hall, with outdoor and indoor seating. Expect a wide selection of local beers and light bites
Ascent Lounge (Teton Village)
Classy après choice in the Four Seasons Resort, where they focus on comfort foods with an elevated approach. Expect a choice of wine by the glass, bespoke cocktails and local craft brews. Signature drink? The Spicy Blood Orange Margarita!
Silver Dollar Bar (Downtown)
Buckle up amigos, the Silver Dollar Bar can be wild and is the town's premier downtown music venue. If you want to drink beer, mix with the locals and listen to tunes, then this is the place.
Million Dollar Cowboy Bar (Downtown)
Seat yourself on your saddle at the bar and strap in for a wild night. Beer, cowboys, western dancing, live music, madness. The Million Dollar Cowboy Bar is no ordinary bar.
Dining in Jackson Hole
Jackson Hole has an abundance of great dining destinations both at Teton Village (the ski mountain) and downtown in Jackson Hole town.
Spur Restaurant & Bar (Teton Village)
Set within the Teton Mountain Lodge the Spur is an award-winning restaurant in the heart of the village. The menu combines American West local ingredients with European Alpine technique to create an inventive modern mountain cuisine.
Westbank Grill (Teton Village)
The Four Seasons' mountain steakhouse offers panoramic views of the village and Rendezvous Peak and a menu that is simply world-class, with steak and seafood options to satisfy even the most discerning gourmand.
Silver Dollar Grill (Downtown)
Set within the fabulous Wort Hotel in downtown Jackson Hole, the Silver Dollar Grill is a quiet and casual dining room offering elevated Western cuisine plus an extensive wine list.
The Grill (Amangani)
Located in the world-class Amangani, Jackson Hole, The Grill's dining room is imbued with an air of stylish comfort, enhanced by its wood-burning fireplace, unique artwork, redwood-panelled walls and stunning mountain views. The Grill's menu showcases innovative American cuisine, including steaks, chops, seafood and locally sourced organic foods. For a special occasion, this is the place to come.
Gamefish (Teton Village)
Treat yourself to a gourmet meal at the cosy Gamefish restaurant in the Snake River Lodge. In addition to serving a comprehensive breakfast daily, Gamefish also has a creative dinner menu, showcasing, among other options, Oregon country beef, wapiti, native fish, and other regional specialities.
The Gun Barrel (Downtown)
Located just one mile from the world famous Jackson Town Square, and a short drive from both the Yellowstone and Grand Teton National Parks, the Gun Barrel is a Jackson Hole favourite with locals and visitors alike. The restaurant has a hunting lodge ambiance and its menu features steaks and game dishes, including buffalo ribs and velvet elk, all cooked to perfection over an open river-rock mesquite grill.
Snake River Brewing Company (Downtown)
America's most award-winning small craft brewery. This is a no-nonsense first-come first-served brew pub with 12 taps of award-winning brews, a games room and a menu that is hearty pub-grub – tasty burgers, home-made pizzas and a selection of light bites.
Activities in Jackson Hole
Grand Targhee Trip
We run day trips to nearby Grand Targhee with its 500" average annual snowfall. We also offer incredible guided Snowcat skiing adventures at Grand Targhee - up to 20,000 vertical feet per day.
Dog Sledding
Winner of both the "Best Cared for Team" and The Sportsmanship awards, Iditarod Champion Billy Snodgrass is the host for your dog sledding adventure! Weather permitting, tours start at the end of November and run until April. There is a variety of exhilarating trails to choose from, all which offer spectacular scenery through the Teton, Shoshoni and Targhee National Forests surrounding Jackson Hole and the Greater Yellowstone area.
Heli-Sking
"Untouched, Untracked, Unbelievable"-the High Mountain Heli-Skiing (HMH) has been in operation since 1974. In the intervening years, heli-skiing has gone from strength to strength, as skiers cannot help but relish the experience of exploring the silent pristine beauty of untracked powder, high in the Tetons. A new Bell 407 helicopter is used to access the 305,000-acre terrain, which includes ranges to the south of Jackson Hole Mountain Resort. Sign up for an exhilarating day away from those lift lines, exploring wondrous forests and glades, steep downhills and vast open bowls. At the end of this very memorable day, you will be picked up by van at the highway.
Sleigh Ride
Settle down and luxuriate in your sleigh ride through Jackson Hole Mountain Resort to a delicious prime rib dinner at Solitude Cabin. With a history all of its own, your horse-drawn sleigh was formerly used by Jackson ranchers to transport hay to their wintering cattle, and their seats are the same design used to transport area schoolchildren during the 1950s. The magnificent horses taking the strain are Clydesdales and Shirt teams from Wyoming. Dinner also includes broiled salmon and a vegetarian entrée. Live entertainment is provided and a children's menu is available. Reservations are essential to secure your place.
Snowcat Skiing
Professional and Informative guides will ensure clients enjoy a wonderful day out, in the midst of one of the most stunning landscapes in the country. The only snowcat operation in Jackson Hole will lead you through the backcountry, enabling you to explore deep powder, steeps, woods and breath-taking Teton vistas on a day out to remember on Angle Mountain.
Snowshoeing
A trained naturalist guide will take you on a wonderful journey into the depths of a winter wonderland on a snowshoe or cross-country skiing natural history tour! Your knowledgeable guide will show you how to track animals through the snow and identify their prints. You will learn various features of winter ecology and throughout your tour you will appreciate the incredible beauty of Jackson Hole. Varieties of tours are offered, appropriate for all ages and abilities.